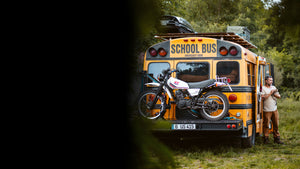 ADVENTURE
AS A WAY
OF LIFE
Don't grow up. Listen to your dreams
Kai Branss is a well experienced Cinematographer and Director. He is working since more than two decades as a DoP travelling the World for various projects. Today Kai's focus lies on Content Productions, Commercials and documentary style work all around the World.
Less things, less worries.
I was looking for alternative ways to live for many years. Looking at tiny houses, tree houses, Houseboats... I just had the feeling that it's time for a change, and I was striving to live differently. It was a very long process for me and like many other people I was stuck in all the things I had and with all the obligations in my life. The first little climbing trip with my Bus changed it all. I loved every bit of it, and I felt free with the little stuff I had on board.
Less things, less worries.

Stick to your dreams
I didn't know much about Bus conversion and watched a lot of YouTube videos about
electricity, insulation etc. One thing was very clear though, right from the beginning. The Bus needed to be fully off grid capable in order for me to stay out in the wild for longer times.
Since I am a Filmmaker / Photographer, power was a big issue for me. Charging batteries and running my Laptop all day for editing was key in order for me to be able to work out of the
bus.

Travelling with cats is definitely special and for me, they are great travel companions.
Babyface, Peggy and Quitschi grew up in the bus. For them this is home, just as it is for me.
The Buslife includes moments of sadness and loneliness. It's not always sunshine and in
moments like this, I am even more grateful to have them with me. We have daily rituals that
we perform, and I do talk to them, and they talk to me at times (but don't tell anyone!)

Exploring new areas, country's is very inspiring for me as a Filmmaker/Photographer and
that is probably the biggest reason why I am so happy with my nomads' life. It is my job and
my passion, which is fantastic.


4th STOP: The Bike
I recently upgraded a bike rack to the back of my Bus, so I can take my beloved Vintage Yamaha XT 250 with me on the road. Having this bike with me is a game changer. I can leave the bus at an overnight spot and go explore by bike. It's a dirt bike, so this thing can take me to places where the bus can't go.


Having a bike on board changes everything.
The bike takes me where the bus can't go, and for me as a Filmmaker & Photographer this is major. Besides that, I love riding… and with all the practical aspects, you should never forget the fun part. The XT is a legend, and it's known for its durability: also it is light and has enough power to have fun and to take me anywhere. I always prefer old to new vehicles. No fancy stuff on board. I just love pure riding and keeping things basic. And I love the design. This bike is just beautiful, something the designers seem to be not capable of these days anymore.