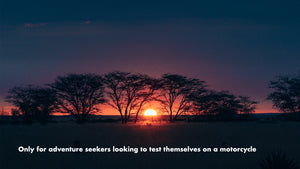 THE LAND
GOD MADE
IN ANGER
The local bushmen, ancient San people, of Namibia once referred to their homeland as, "The land God made in anger." A land where rains may only come every 20-30 years and where temperatures sore in the oldest desert in the world. To some people that may serve as a warning sign to stay away but for adventure seekers looking to test themselves on a motorcycle, it's an invitation for an adventure of a lifetime.
An adventure made by Bonafide Moto Co and powered by Fuel & D3O
On our first day of riding, we set off on tar roads from the capital city of Windhoek on a short day's ride (4 hours) to our first destination, Spitzkoppe. What's nice about this ride is that it gives you a few hours on tar to settle into the bike, adjust gear along the way and just as you get tired of tar it's time for your first taste of Namibian gravel & dirt. I always find a surge of excitement when I hit that first dirt road. The dirt is where I find the most joy while on adventures as it typically takes you to places removed from the crowds. On this trip we'd face over 1500 kms of dirt (it's a lot) and we were all anxious and excited to see how we'd manage with the varying road surfaces along the way.
We arrived at our campsite at Spitzkoppe,'The Cove,' just a few hours before sunset which gave us time to walk around and soak in our first full day in Namibia. The Cove is a little hidden area at Spitzkoppe that's tucked in amongst massive granite walls on all sides. It's a great spot to keep you protected from the harsh desert sun, the wind and also keeps it nice and private.
Burgers and fire.
We spent that night huddled around the fire, enjoying smash burgers cooked by Werner and enjoying the night sky before heading off to our tents. Typically in that area you'll find clear skies, but on that night we were treated to a welcoming thunderstorm that passed through camp late into the night. My plan was to just sleep under the stars in my bed roll for the whole trip but with the downpour of rain I ended up having to share a tent with Steve.
The following day we set off on big gravel roads through the wide open desert towards the coastal town of Henties Bay. This is where we got to enjoy our first mirages of the trip. They are real and there were times when I actually thought there was a lake up ahead that we should go check out. The mid-day sun got the best of us and we managed to find a little shack in the middle of the desert where we could enjoy the shade and browse some local gems at a trading stall which used an honesty system to purchase items. Our ride that day ended at the coastal town of Swakopmund where we feasted at a local German restaurant (there's lots of them) and enjoyed our last night in a major town. The remainder of our trip would be far more remote, removed from civilization and this was exactly what we wanted from Namibia.
Before leaving the coast, we made a detour that Isidoro had found along the massive sand dunes just south of Swakopmund heading towards Dune 7, a very famous and iconic sand dune to see. It was incredible to ride along these dunes that have been here for millions of years. I've always seen photos and videos of dunes like this, but to finally experience how massive they have been quite special.
After exploring around the dunes for a while we had to get on the move as we still had almost 200 kms to go. This next stretch of road was truly remarkable. It seemed like every hill you'd summit gave you an opportunity to not only see off into the distance but it seemed as if the landscape continued changing throughout the ride. Sometimes you'd look out to see wild fields of yellow grass from the previous year's rain waving above the orange sand landscape. Then we'd work our way through a small mountain range and dip down into gorges with dry river beds. Coming out of the river beds you'd pop out to another completely different landscape than what you had just come out of. 
One of the important things on this trip was to also experience the country off the bikes. A great opportunity to do that is at Sossusvlei: a salt and clay pan surrounded by high red dunes in the Namib-Naukluft National Park. It's best viewed at sunrise (or sunset) and to get there at this time obviously means an early start to the day. A 5 am departure! Motorcycles aren't allowed into the park, so we all crammed into our Ford Ranger support vehicle for an hour drive to the dunes. Our timing was perfect and as we got out of the car the sun was just starting to come up. 
The walk up the dunes is quite a work out. They're massive and obviously trudging on an incline through thick soft sand is gonna wear you out. For this time of day, I'd recommend just going barefoot like I did. We managed to hike up to the ridge of a dune that protects the Deadvlei, a dry lake bed with old trees still planted firmly in the dry soil. I stayed on the ridge for a few minutes to soak up the sunrise and views before enjoying the fun part of running down the dunes. After our time off the bikes we were eager to get moving back to camp for breakfast and get back on the bikes. Our next few days on the bikes heading south became even more remote than the days before and they were nice and short (140 kms +/-). This was great because it gave us more time in the morning to relax, stop longer for lunch, not feel pressured to be somewhere and we knew we had plenty of time during the day if we wanted to explore around. All throughout this trip our accommodation varied. I wanted to make sure that everyone got to experience a wide range of options. We camped 4 nights; 2 of those we were self sufficient and the other 2 nights were at campgrounds where they had showers, restaurants and obviously wifi. One of the most special nights of the trip, our last in Namibia, was in a remote part of the Richtersveld Park in a dry river bed canyon. There was absolutely no one around for miles and miles and we had the entire canyon to ourselves (and a few Jackels).
What made this location so special was that it's rare (for the majority of us) to find yourself in a location such as this where you are completely on your own in the middle of nowhere. We made the most of that opportunity by burning the rest of our firewood, playing tunes and dancing around the fire like a bunch of wild kids. After our last night in Namibia, we took our time waking up, piled in the truck and took a short drive down to the Orange River (the border between South Africa and Namibia). At camp there were no showers and the giant Orange River gave us the perfect spot to cool off and clean up before heading into South Africa.  The last two riding days would be back home in South Africa. I assumed we'd just be on boring tar roads the whole way to Cape Town but I was wrong. Yes there was a lot of tar but we weaved our way through big massive mountains and it was nice to just cruise. At some point along the way we all got hungry and Steve had found a nearby restaurant that looked to be right on the coast. Our route there was another detour and it was an epic one. It took us all along the coast line, up sandy hills and through a few nature reserves where we had to keep dodging tortoises crossing the road. 
Each day seemed to get better than the one before.
At some point along the trip we all noticed how each day seemed to get better than the one before. I don't know how that was possible, but it was true. As epic as some days were, the next day would offer us something completely different and would leave us blown away.  I guess that's just the beauty of Namibia that you'll only experience when you're there. This adventure left me with a full heart, feeling fulfilled in so many ways but also left me extremely curious about what else Namibia has to offer. I plan to keep going back to Namibia for as long as I'm able to and I look forward to sharing it with more people like yourself. 
NEW PARTNER ON BOARD
AN ADVENTURE POWERED BY D3O
D3O is recognized as the world's foremost impact protection brand, so this alliance implies a step forward in the new Fuel products. To celebrate this partnership, we decided to run an adventure to Namibia along with our friends of Bonafidemotoco. Where better than in the Namibian desert to test the gear and D3O protections?