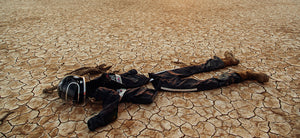 No Man's Land: a scrambler adventure along the Silk Road
Grassland, desert, and endless roads
The scenery that met the team on their trip into No Man's Land was breathtaking. Grasslands with deer pasturing, cool breezes in the desert, snow-capped mountains, and endless starry skies at night, with a beer in hand. The team captured these beautiful landscapes and unique moments in numerous images that make anyone long for moments like these from the perspective of our motorbikes. 
"The dark clouds are pressing against the city and the city is about to be destroyed, and the rays of light will open to the sun." We know that there will be beautiful sceneries after the cumulonimbus passes.
unforgettable
Setbacks and surprises
As expected, a journey like this comes with its setbacks. Harsh road conditions, parts flying, heavy rain resulting in a bike breakdown, and much more. But as anyone who has been out on a scrambler adventure knows that these experiences make for the most unforgettable memories.
Rider Lao Ma was very motivated and wanted to do his favorite trick:setting the Triumph to cruise at a fixed speed, straight on the deserted beach, and quickly stepping on top of the Triumph. His pose is similar to the one of "Yu Jian Fei Xian" in the famous martial arts drama.
MEDIA COVERAGE
META MAGAZINE
The No Man's Land adventure did not go unnoticed in the media. Our friends of Meta Magazine publish the story at their site.