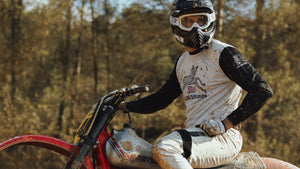 NEW RACING DIVISION EQUIPMENT
The New Fuel Racing Division is made up of a complete set of equipment for the enduro and motocross rider.
Pants, jerseys, gloves, and goggles are all made with today's latest technology and functionality, but with a retro design inspired by late 70's garments
DISCOVER THE FUEL RIDERS!
We're going to sponsor these 3 riders during the season 2022-2023.
Stay tuned at our social networks!
Mateo Medina
"My name is Mateo Medina, and I'm a photographer and publicist passionate about motorcycles! I live in Pereira-Colombia, and I'm currently an official rider for the Ducati Racing Team"
Unit Motorshop
"We are the Unitmotorshop family, we come from Normandy (France), our father Gilles always rode motorcycles, he was a mechanic and my brother Antoine too, we have always raced on-road, or off-road."
Keep Tuned
Racing Is not about success. It's about passion and effort
Is not about winning, is about standing up and doing it again.
Is not about being famous. It's about feeling alive.
And yes, racing is all about going fast.
Do you want to be sponsored by us?
This is not just a clothing line, is also a platform for sponsoring and supporting classic enduro and motocross racing riders from several countries. If you want to be sponsored by Fuel Motorcycles, complete the form below and tell us a bit of you and your next competitions.