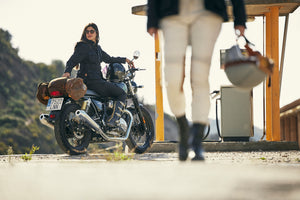 #AlwaysAhead
We want to empower two-wheeled adventure-lovers to make them the true stars of their own story and to find their own route.
Bessie Stringfield
The first Afro-American woman to cross the United States from coast to coast on her Harley-Davidson Knucklehead, overcoming all kinds of sexist and racial prejudices en route.
 Anne France Dautheville
She climbed onto her Guzzi V7 in 1972 to take part in the Grand Rally Orion but had to contend with all kinds of insults and threats just to finish the race. When she crossed the finish line, she did not brake until she had travelled around the world.
Elspeth Beard
A young English architect who in 1980 ran up 54,000 km over three years on the trot on her BMW r60/6 which, by the way, she fixed herself.
We are presenting a collection that pays tribute to women who refused to take a back seat and who, by dint of their passion for motorbikes and adventure, broke down barriers and did away with stereotypes.
Woman Sergeant 2
The ideal pants for a coast-to-coast trip in any country, in comfort and in style.
Woman Safari Jacket
The perfect three-quarter jacket for any long haul. Made with the Fuel 3Core technology.
revolutionary
D3O® Ghost™ Armour
Proud to say that all the protections of this collection are from our new partners D3O®. This Ghost™ armour is the thinnest and most flexible limb protector range from D3O, exceeding CE Level 1 certification.