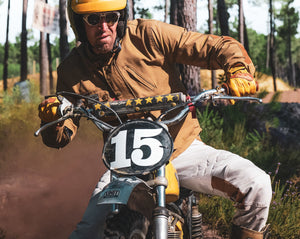 Fuel x Wheels & Waves
Limited Collection
Only for Nostalgic riders
Wheels & Waves meets Fuel Motorcycles
It's 2022, and Wheels and Waves is 11 years old. More than 10 years confirming the belief that Wheels and Waves may have been a flamboyant utopia, but never a fleeting one! This is a symbolic anniversary to proclaim that Wheels and Waves has worked with conviction towards the renaissance of custom culture worldwide. Today, it is clearly one of the movement's significant testimonies. And to celebrate, Fuel Motorcycles wanted to be part of this incredible and unique celebration with a collaborative project.
A Collection for encounters and adventures. A Limited Edition for nostalgic riders.
Two brands that were born at the same time and growing with the same philosophy simply had to come together at some day. Now that moment has arrived. After a brief meeting and sharing some ideas, both companies saw that they could create synergies and develop a limited edition collection with the values we share in regard to creativity and passion for two wheels.
Art, freedom and passion for two wheels
The entire line stands out for its vintage style and the high quality of its fabrics and finishes, characteristic of Fuel Motorcycles, along with the image of W&W; a brand that exudes freedom and creativity everywhere.
"Art, passion for two wheels and vintage culture are values and interests that we totally share with the people at Wheels & Waves, so it was only a matter of time before we fell in love with each other."
Karles Vives, Fuel Motorcycles founder & Creative Director
"Riding off-road being one of WAW values & one of my favorite leisure, making this collab with FUEL came naturally. Bringing our DNA, spirit to this capsule collection, can't wait to ride with its on secrets roads and paths in Basque Country and abroad…!"
Jérôme Allé Wheels & Waves co-founder