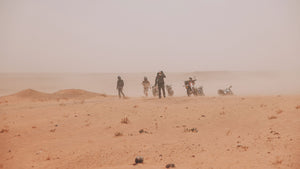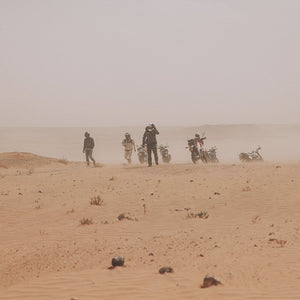 Prepare to embark on the next thrilling chapter of adventure – Scram Africa 2024! 🌍 In a world where pioneers once crossed deserts and mountains with limited resources, we're recreating that spirit. For more than a decade, the Scram Africa has been the pinnacle of adventure for scramblers and custom bike enthusiasts, letting them live the explorer's dream. And in the upcoming 11th edition. Get ready to join the legacy!
KEY INFORMATION
SCRAM AFRICA 2024
Check the key points of this edition!
📅 26th April to 6th May 2024
🛳 Spain - Morocco
💥 Limited places
🏁 Motorcycles, Sidecars, Old 4x4 Vehicles
🗺 Road type around 70% Off road
❗Medium Off-road experience required
THE ROUTE
26/04: Barcelona - Boarding
27/04: Arrival in Nador - 12km of asphalt
28/04: Nador - Rekkam - 380km, around 180km offroad
29/04: Rekkam - Erfoud - 370km, around 130km offroad
30/04: Erfoud - Sahara Camp - 150km, around 140km offroad
01/05: Sahara Camp - Dades - 340km, around 120km offroad
02/05: Dades - Bin el Ouidane - 280km, around 80km offroad
03/05: Bin el Ouidane - Assilah - 490km
04/05: Assilah - Tanger Med - 150km, by road
05/05: Navigation
06/05: Arrival in Barcelona
VEHICLES CATEGORIES
Three different categories are allowed to participate at the Scram Africa 2024.
1. SCRAMBLERS & CUSTOMIZED BIKES. Any customized bike will be allowed to participate (no matter which), and also any scrambler bike (old or new) as Triumph Scrambler, Ducati Scrambler, or BMW Nine T.
2. 4X4 VEHICLES OVER 30 YEARS OLD OR CUSTOMIZED 4X4 The vehicle should be 4 wheel traction and has to have at least 30 years old, or has to be customized.
3. SIDECARS. Any sidecar of any time or brand is allowed to participate.
Exclusive Adventure Awaits
Secure Your Royal Enfield Himalayan Rental Now!
Exciting News! We now offer 10 Royal Enfield Himalayans for rental. Hurry, as once these 10 bikes are booked, this exclusive option will no longer be available. Secure your adventure on two wheels today!
Prices according to vehicle
Motorcycle: 3.300€
Sidecar: 3.300€
4X4 vehicles: 3.550€
Accompanying person: 2.250€ (Sidecar or 4x4 vehicle)
What includes?
- Ferry Barcelona / Nador back and forth (without meals)
- Medical Assistance Team and Vehicle during the full trip*
- Mechanic Assistance Team and Vehicle during the full trip*
- 5 nights in hotel with dinner and breakfast
- 2 nights in bivouac (you should bring camping tent and sleeping bag) with dinner and breakfast
- Picnic for lunch en-route
- Space allocated in the support vehicle for personal items
- GPS Track and route dossier
(*) Terms specified in the contract
What does not include?
- Vehicle
- Personal travel insurance (mandatory)
- Insurance of the bike for Morocco (mandatory)
- Personal camping gear
- Personal motorcycling gear
- Fuel and tolls
- Drinks in the hotels / restaurants / etc.
- Personal expenses (souvenirs, etc.)
Any other concept not specified in the "Included" section
ℹ. Please, check the official requirements for entering Morocco at the official tourism site. Entry requirements can vary depending on each passport nationality, so please check yours as the dates of the trip get closer to know what kind of measures and documents you need to bring in to enter Morocco. Don't hesitate to contact us for more info about this. 
ℹℹ. Sign-up Conditions: To secure your place, an initial payment of 1.500€ is required within 10 days of the sign-up request. Please note that this payment is non-refundable. To safeguard your investment, we recommend securing a cancellation insurance. This coverage not only ensures reimbursement in case of unforeseen circumstances but also doubles as personal travel insurance, offering added protection for potential accidents during your adventure. Check it here!
Do you have any questions?
Check our previous Scram Africa adventures View all